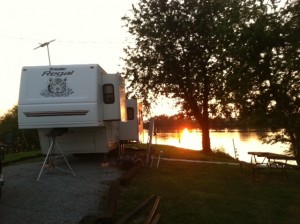 Decatur Alabama Marina and Campground Family-Owned and Operated
Welcome, and thank you for visiting the Jay Landings RV Park website. Now that you have found us on the web, come join us on the river!  An array of 32 full hook-up sites awaits you for a day, a week, a month or longer on the banks of the Tennessee River and within the confines of Jay Landings Marina.
Jay Landings Marina was founded in 1994 by Joel and Elizabeth Jenkins out of a love for the water, boating and the outdoors. Being around these things is relaxing and calming for them, and they desired to bring that to many others. It's good, clean fun for the individual, couple, family and friends, so the invitation is there for you to share that with us here at Jay Landings Marina.
In 1996, the marina was established and running well, however there remained some undeveloped land on the property with gorgeous views of the river.  The RV Park was then created as an extension of Jay Landings Marina where land recreational users could also enjoy the use of the property and the serene nature of its river views.
We take pride in having the most practical and favorable RV facilities in the area, along with the same for your boating and fishing pleasures. Whatever you choose, we at Jay Landings Marina and RV Park can assist you and your needs to fulfill your desires for an adventure on land or water.
Beautiful Campground in Decatur Alabama
Jay Landings RV Park is located in Decatur Alabama and is bordered on two sides by the waters of the Tennessee River at the back of Jay Landings Marina. It's important to us that you know the story behind why it is all there.  You may find us on camping-usa.com, and after you stay with us, feel free to leave a comment on their website.
Contact US
Jay Landings Marina and RV Park

1600 Hwy 20 West Decatur, AL 35601
256-350-4722 Day
256-227-9833 After Hours
After Hours Arrivals
Arriving after hours?  Enter the marina from Highway 20, proceed through the gates, and follow the road to the back .  The RV Park is located on the river at the back of the property.  Pick any site available, and we will see you in the morning!